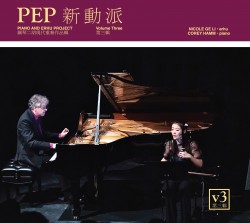 PEP (Piano and Erhu Project)
Volume 3
Redshift Records (redshiftrecords.org/releases/tk474/)
The duo of erhu virtuosa Nicole Ge Li and contemporary music specialist, pianist Corey Hamm, known as PEP (Piano and Erhu Project), issued its first CD release in 2015, the second following soon on its heels. I reviewed both for The WholeNote, commenting that PEP's core repertoire exemplifies a "fluid interplay between these two instruments, each an icon of its respective culture. Rather than an intercultural vanity project, their collective music-making focuses on polished, musically engaged readings of recently commissioned scores."
PEP's Volume 3 extends that project to nine richly varied compositions. The carefully curated collection includes international composers working in many of today's classical music streams. In addition to two Canadian works by Lucas Oickle and Stephen Chatman, new compositions by Michael Finnissy (UK), Gao Ping (China), plus existing works by Sergei Prokofiev (Russia/USSR), his grandson Gabriel Prokofiev (UK), Somei Satoh (Japan) and Marc Mellits (USA) are on this rich smorgasbord.
The album gets off to a rollicking start with the percussive first movement of Chinese-born composer Gao Ping's Hu Yan (2017). The work's six sections are each characterized by contrasting techniques and moods. Pizzicato passages in both piano and erhu in the third movement are certainly arresting, as are the eerie finale's final moments: bass piano clusters thud while the erhu holds a still, high vibrato-less tone.
The album concludes with an arrangement of Sergei Prokofiev's Scherzo from his Flute Sonata (1943), later arranged for violin and piano by the composer. Hamm energetically nails down the two-fisted piano accompaniment while Li handles her difficult erhu part with panache. She makes it sounds like the 77-year old work was written for her. It's an espresso nightcap to PEP's exhilarating program.