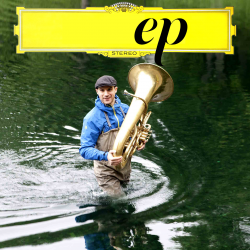 CLASSICS from the Rascali Klepitoire (teaser) EP
John Oswald
fony (pfony.bandcamp.com)
This Toronto composer/saxophonist/improviser/electronics/artistic genius John Oswald release is an exciting cross section of masterfully created old and new projects illuminating Oswald's unique talents in electronic and live sound creation, something this reviewer can attest from decades playing free improvised music with him in various settings.
Oswald recently revised an earlier dance piano/ensemble soundtrack to disklavier for from exquisite lune. Linda Caitlin Smith's score is one that Oswald subcontracted for his suite based on Debussy's Clair de Lune, and here her slow reflective piece with wide spaces is breathtaking to the final high-pitched piano sounds. The Oswald and James Rolfe co-composition bird, based on Leonard Cohen, is fascinating with the opening solo female voice warbling, high notes, pace change, spoken words and final almost folk oompah groove backdrop.
Plunderphonics galore in a sum of distractions* (concerto for conductor and orchestra), as the conductor/soloist is wired for sound, and fingertip triggers set off musical quotes against flute melody, intermittent orchestral crashes and superimposed familiar lines for new listening experiences. sounds of sigh… opens with a Simon and Garfunkel Sounds of Silence -sounding riff as overlapping symphonic held notes, groove patterns, intense sustained horn and atonal effects abound.
Also included are lontanofaune, and ariature & panorama. But the biggest thrill is the "silly bonus track" 5th. Beethoven's classic symphony now contains such treats as electronically produced sounds, squeaks, instrumental effects, grunts, all in classic Oswald plunderphonics bravado.
Oswald has also been releasing reissues on Bandcamp. Highlights include Grayfolded "radio edit" (1994), his infamous groundbreaking reworking of music played by the Grateful Dead. Discosphere (1991) is a cross section of Oswald's "soundtracks for dance." Kissing Jesus in the Dark is a 1970s "found sound" release by Pause Pirate – Oswald, Marvin Green and Miguel Frasconi.
Timeless fun music by a great Canadian musician!