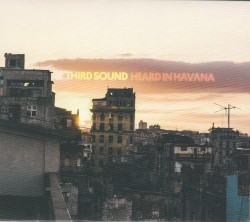 Heard in Havana
Third Sound
Innova Recordings 990 (innova.mu/albums/third-sound/heard-havana)
In 2015, the American Composers Forum sent a delegation of musicians and composers to Cuba. Their mission: to present a program of contemporary classical American music at the Festival de Música Contemporánea de La Habana. It was the first such concert to take place in Cuba since the Cuban Revolution.
The ensemble chosen to perform was the newly formed New York City-based quintet Third Sound, comprising some of NYC's top chamber musicians. In preparation, ACF and Third Sound held a national call for scores for flute, clarinet, violin, cello and piano. Heard in Havana showcases the ten works chosen, the product of a diverse group of composers from across the USA reflecting the variety of American classical composition today.
I admire much of the music of the truly international Kati Agócs. Though born in Windsor, Ontario and a JUNO Award winner, she retains three citizenships, American, Canadian and Hungarian (European Union). Her work embraces both her North American and Hungarian parental and musical lineages. Agócs' elegant and elegiac 2007 Immutable Dreams II: Microconcerto [in memoriam György Ligeti] on this album is no exception. Writes the composer, it is a "miniature piano concerto… a tribute to my Hungarian roots and to György Ligeti's influence." I also hear multiple echoes of the music of another great 20th-century Hungarian: Béla Bartók. Agócs' Microconcerto concludes with a haunting, musically enigmatic and gentle metacrusis.
Summing up the album, there aren't many common threads among the ten pieces chosen. But perhaps that's the point. An abundant variety of artistic expression is a core value I can also get behind.