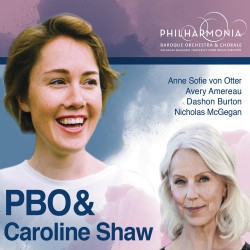 PBO & Caroline Shaw
Philharmonia Baroque Orchestra & Chorale; Nicholas McGegan
Philharmonia PBP-12 (philharmonia.org/product/shawcd)
Listen to this: an unexpected, lush, open-hearted triumph of a record featuring an oratorio and song cycle, written for period instruments by the singular, esteemed, Caroline Shaw (USA, b.1982). Recently, the Philharmonia Baroque Orchestra established a "New Music for Old Instruments" initiative, aimed at creating fresh works expressly for period instruments. The fruits are already being born, as radiant, alluring music by Shaw proves on this disc, featuring extraordinary artistic talents such as Anne Sofie von Otter.
Opening with a song trilogy, Is a Rose, this album immediately transports the listener to a vibrant, fantastical soundworld fashioned from bygone Baroque molecules, now re-energized anew. The terrific musicianship of the PBO and its longtime director, Nicholas McGegan is on full display here. Glorious sonorities complement von Otter's soaring vocal lines. (This will be McGegan's final recording with the orchestra.)
And it just gets better: The Listeners, a full-scale oratorio by Shaw, is up next, brimming over with cosmic warmth and light. The libretto is derived from five centuries of English poetry, supplemented with recorded excerpts from Carl Sagan's Golden Record, as launched into space in 1977.
Oratorio is the ideal vehicle for Shaw's creativity and an idiom that seems to be gaining newfound popularity these days amongst other composers. The genre's inherent humanity is perhaps what remains attractive and we need it today more than ever, as our 21st-century world faces novel challenges, now in its third, disquieting decade.