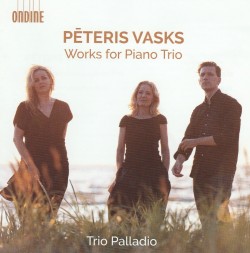 Pēteris Vasks – Works for Piano Trio
Trio Palladio
Ondine ODE 1343-2 (naxosdirect.com/items/vasks-works-for-piano-trio-526894)
When Pēteris Vasks, Latvia's preeminent contemporary composer, visited Toronto in the mid-1990s, he left me with vivid memories of his intensely gripping String Symphony ("Stimmen") and his no less intensely gripping handshake.
This CD begins with the 15-minute Lonely Angel (2019), Vasks' rearrangement of the Meditation from his String Quartet No.4 (1999). Vasks writes, "My guardian angel has had to do an awful lot of guarding during periods of my life… Sometimes even he must feel like it is all just too much." This is pensive music, with long, soulful string lines over gentle piano ripples and bell-like notes.
Vasks writes of Episodi e canto perpetuo (1985), "It is like the hard road through evil, delusion and suffering to a song centred in love." In eight movements, the 28-minute work encompasses restless turbulence, hushed solemnity, heavily rhythmic coarseness and a prolonged cry of anguish that finally fades away.
Plainscapes (2011) is Vasks' rearrangement of a 2002 composition for violin, cello and chorus. He writes, "This is in late spring… after this rising of nature, a sense of infinity and eternity with those immense starry heavens, returns to the music." The 18-minute piece begins with soft rustlings suggesting (to me) a forest at dawn and crescendos to a life-affirming climax and the clamour of nature untrammelled, subsiding as nightfall brings stillness.
These compelling, expressive works are thrillingly performed by Trio Palladio, each member a leading Latvian soloist. Strongly recommended!