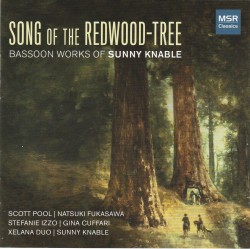 Song of the Redwood-Tree
Scott Pool; Natsuki Fukasawa; Stefanie Izzo; Gina Cuffari; Xelana Duo; Sunny Knable
MSR Classics MS 1749 (sunnyknablecomposer.com)
American composer, pianist and educator Sunny Knable's four works here illuminate the many sound possibilities that the bassoon produces as a lead instrument and in ensemble. The three-movement title track Song of the Redwood-Tree for soprano, bassoon and piano is based on Walt Whitman's Leaves of Grass. A California Song opens with bassoonist Scott Pool's beautiful held notes, pianist Natsuki Fukasawa's contrapuntal lines and soprano Stefanie Izzo's high pitches. Death-Chant is understandably more atonal with dramatic high vocal pitches, and Golden Pageant features more tonal cadences, and piano/vocal unisons.
Tango Boogie combines a bit of tango and swing in a surprising gratifying sonic mix played by the alto saxophone/bassoon Xelana Duo. Double Reed on Charles Wyatt's poem To the World's Bassoonists showcases Knable's understanding of the breath control required to play reed instruments, as he performs on the accordion with soprano/bassoonist Gina Cuffari. Its second movement Tragic Bassoon is especially noteworthy with the solo bassoon melody above the left- and right-hand accordion-held chords and vocal backdrop creating a memorable sound. Lots of familiar true-to-life sounds in The Busking Bassoonist as Pool and Fukasawa perform such Knable-created city-sound effects as trilling birds, rhythmic marching and a distant subway piano pedal echo.
Knable clearly understands the bassoon's vast possibilities beyond its traditional instrumental setting. His compositional expertise grounds his explorative instrumental creations and answers his own question "Why does this work have to exist?" Because it is great!