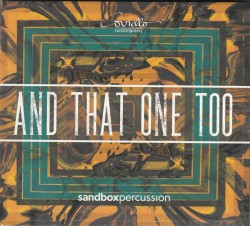 And That One Too
Sandbox Percussion
Coviello Contemporary COV91918 (sandboxpercussion.com)
Brooklyn NY Sandbox Percussion ensemble members Jonny Allen, Victor Caccese, Ian David Rosenbaum and Terry Sweeney have created long-term close collaborations with the composers who write for them, resulting in smart, diverse, challenging contemporary musical works. Their debut release features four of these.
Andy Akiho's Haiku 2 observes the 5-7-5 haiku form with minimalistic repetitive hits coupled with tuned percussion sounds. Each movement of David Crowell's Music for Percussion Quartet was inspired by different environments. Mov. I - Fluctuation and Mov. III - Oscillation feature polyrhythms on drums and vibes, creating a busy city sound. Mov. II - Sky, with its slow meditative ringing vibes and hypnotic repetitive tonal sequences perhaps sound like the sky at dusk. Low resonances abound in Mov. IV – Landscape. Composer/vocalist Amy Beth Kirsten performs her composition she is a myth with great tonal colour on multiple tracks, with Sandbox playing opening percussion like paper, sandpaper and scratches, and subsequent toe-tapping rhythms. Thomas Kotcheff's not only that one but that one & that too is divided into three parts, each focusing on a different percussion type. Part I features wooden instruments with the opening attention-grabbing "what is this" woodblock taps leading to a wooden percussion sound panorama of pitch and rhythm. Part II is all about drumming rhythms and rolls, while in Part III, pitched metal instruments and finger cymbals create calming effects.
Sandbox Percussion plays brilliantly with musical accuracy and nuance.