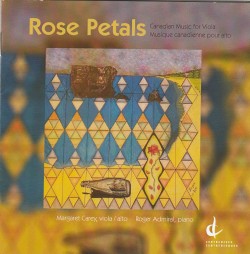 Rose Petals – Canadian Music for Viola
Margaret Carey; Roger Admiral
Centrediscs CMCCD26319 (cmccanada.ort)
The oldest and longest work on this CD, Jean Coulthard's 17-minute Sonata Rhapsody (1962), filled with moody introspection and intense yearning, makes an auspicious beginning to violist Margaret Carey's "hand-picked" collection of Canadian compositions,
Three pieces are for solo viola: Jacques Hétu's Variations, Op.11 is predominantly slow and songful, occasionally interrupted by rapid, virtuoso passagework; in 19_06, Evelin Ramón combines intricate, electronics-like viola sonorities with vocalizations by the soloist; Howard Bashaw's Modular 1, the first movement of a longer work, is a tightly rhythmic study in repetition, sustaining momentum throughout its four-minute duration.
Pianist Roger Admiral, heard in Coulthard's piece, also collaborates in three other works. Ana Sokolović's Toccate, another four-minute essay in motoric rhythms, strikingly (pun intended) evokes the sounds of the cimbalom and Serbian Gypsies.
The CD's title, Rose Petals, is taken from the titles of a poem and a painting by Carey, both reproduced in the booklet. They, in turn, inspired Sean Clarke's The Rose, commissioned by Carey. Clarke writes that in it, Carey also sings fragments of the poem but I found these inaudible. Nor could I discern much in the way of structural or expressive coherence amid the music's disconnected, brutal fortissimo chords.
Laurie Duncan describes the first two movements of his Viola Sonata as "melancholic" while "the third movement, Jig, is unexpectedly gay and joyous." It's a substantial, satisfying conclusion to this adventurous traversal across highly disparate compositional approaches and aesthetics.