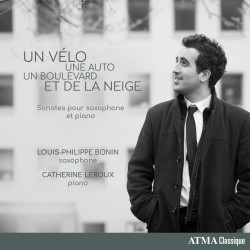 Un Vélo, une Auto, un Boulevard et de la Neige
Louis-Philippe Bonin
ATMA ACD2 4041 (atmaclassique.com)
This digitally released album of saxophone and piano music combines classic saxophone repertoire with a few surprises. The performances by both Louis-Philippe Bonin (alto saxophone) and Catherine Leroux (piano) achieve an excellent balance of clean technique and precise emotion. Bonin's tone is lean yet full and he makes many technically difficult passages seem effortless. Leroux's playing is articulated and balanced while lending a spark when required.
The album contains five works, two of them more traditional saxophone sonatas, one by William Albright (1984) and the other by Fernande Decruck (1943). Florent Schmitt was a contemporary of Debussy and Ravel and the beautiful Légende, Op.66 (1918) is reminiscent of those composers' tonality. One of the surprises, Kristin Kuster's Jellyfish (2004) is a three-movement piece capturing the movements of different types of jellyfish; the various swirls and bursts of sound paint a perfect sonic portrait of these creatures.
The title composition, Un Vélo, une Auto, un Boulevard et la Neige, by Félix-Antoine Coutu (2018) was commissioned by Bonin and brings classical saxophone music into the social media arena. In a December 2017 Facebook post, a blogger called a cyclist a "jerk" for riding on the street in the newly fallen snow and "zigzagging" in front of the writer's car. The post caused quite an outcry on social media and Coutu's piece is based on five of the more than 500 Facebook responses and the "variety of rhetorical devices" people used to express their opinions. The work effectively presents these five rhetorical "movements" and Bonin's playing artfully mimics and embraces this social media conflict.