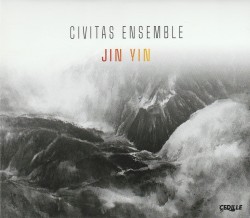 Jin Yin
Civitas Ensemble (includes Canadian Winston Choi)
Cedille CDR 90000 193 (cedillerecords.org)
Chicago's Civitas Ensemble is an unusual quartet: violinist/ leader Yuan-Qing Yu, cellist Kenneth Olsen, clarinet/bass clarinetist J. Lawrie Bloom, all eminent members of the Chicago Symphony Orchestra, are joined by Canadian pianist Winston Choi, Roosevelt University's piano-program head.
On Jin Yin (Golden Tone) they present five recent instrumental works by composers of Chinese heritage, offering world premiere recordings of works by Vivian Fung, Yao Chen, Lu Pei plus new arrangements of works by Chen Yi and Zhou Long.
Long's Five Elements (2014) is the album's longest work, its tonal richness bolstered by the addition of Yihan Chen (pipa), Cynthia Yeh (percussion) and Emma Gerstein (flute, piccolo). The Five Elements – metal, wood, water, fire, earth – were considered by ancient Chinese sources to be the building blocks of the physical universe. In his Five Elements, the composer represents each in turn. His programmatic music employs both modernist sonic gestures and percussive allusions to Chinese antique ritual music in the "metal" movement for example, employing effective tone-painting throughout the rest of the opus.
Canadian composer Vivian Fung's Bird Song (2012) for showcases the virtuosity of both instruments, characterized by runs, intense rhythmic passages and exploration of improvisational moments. The title refers to the birdcalls of the opening and closing passages, to the sprightly tonal arpeggios in the central section and to the overall rhapsodic spirit of the violin writing. The ending is a haunting contrast to the rest of the work, marked by a sort of soft nostalgia.
The other three works on Jin Yin have much to recommend them as well, altogether providing a full and fascinating 77 minutes of listening.