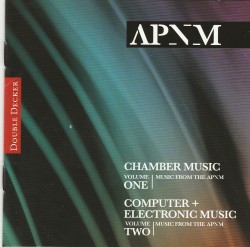 Music from the APNM (Assoc. for the Promotion of New Music) Vol.1 & 2 (electronic)
Various artists
New Focus Recordings n/a (newfocusrecordings.com)
The Association for the Promotion of New Music (APNM) was founded in 1975, and is celebrating its long commitment to composers with this double release of acoustic, electroacoustic and electronic works by member composers
Volume 1: Chamber Music is mostly acoustic music performed by a variety of excellent musicians and ensembles. The opening work Wind Chimes, performed by composer/guitarist Stephen Dydo with Chen Yu on pipa, is a continuous colourful sound mix of the two instruments in 12 continuous sections each based on an early Chinese music mode. Thomas James describes his Odd Numbers as utilizing odd numbers to create "aggregate" rhythms, with piano soloist Sheila Simpson especially spectacular in the delicate sections. Love Joseph Hudson's piano/electronics work Starry Night. The composer memorably orchestrates my own interpretation of the night sky with florid piano lines against held, calming, electronic sounds, weather changes with louder rhythms and forceful ticking, and clouds drifting by in the closing slow piano/electronics section. Other works are composed by Laurie San Martin, Elaine Barkin and Sheree Clement.
Volume 2: Computer + Electronic Music consists of eight contrasting compositions. Explosions, rapid-fire lines open Arthur V. Kreiger's For Diane, with a plethora of interesting electronic sounds created on fixed audio media, while Adam Vidiksis' Ouroboros features more current-day electronic sounds like plops and repeated rhythmic figures. Almost theatre/movie music, Stereo Fantasy by Maurice Wright is fully notated and performed by synthetic orchestra, complete with sparkling staccato lines, electronically generated strings and drones. Lots of contrapuntal conversations with noisy bangs, tunes and almost-live instrument sounds in Jeffrey Hall's From the Winds of Avalon. More computer-generated instrumental sounds in Joel Gressel's Deconstructing Maria. Works by Samuel Wells and Carl Christian Bettendorf combine electronics with live instruments, trumpet and viola respectively.
A fabulous collection of acoustic and electronic compositions showcasing the talents of APNM's members and the organization's multi-decade work supporting new music.