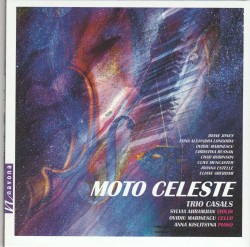 Moto Celeste
Trio Casals
Navona Records nv6266 (navonarecords.com)
Moto Celeste is the fifth installment of Navona Records' MOTO series featuring the Trio Casals. Conductor/cellist/composer Ovidiu Marinescu, violinist Sylvia Ahramjian and pianist Anna Kislitsyna are outstanding gifted musicians who together create a tight, musical, technically virtuosic chamber trio sound. Here they perform eight new compositions, all listener-friendly, drawn from an eclectic mix of musical ideas.
Each work is a masterpiece in its own right. Highlights include the opening track, Earth Rise, by Diane Jones. Inspired by the sun, moon and earth, the opening piano high-pitched slow sparkling tinkles lead to matching melodic phrases on all instruments, a slower reflective cello solo and a moving, almost romantic, planet dance. Quick change to a rockin' rhythmic work, Los Ritmos Para Tres (Rhythms for Three) by Edna Alejandra Longoria, a fun mix of jazz, rock and contemporary music rhythms and lines. Cellist Marinescu's amazing almost athletic performance of his own composition Sunt Numai Urechi (I'm All Ears) for solo cello is flawless. An exciting flamenco-guitar-inspired virtuosic work, he almost sounds like two performers as he tackles his fast, circling, chromatic melodies, lyrical sections, high pitches and changing mixed metres. Canadian composer Joanna Estelle's brief, yet sweet, tonal Faraway Star, is a programmatic piece of star-crossed lovers – female violin, male cello and piano narrator, played with clarity and storytelling precision.
Compositions by Christina Rusnak, Chad Robinson, Clive Muncaster and Eliane Aberdam complete this memorable recording.