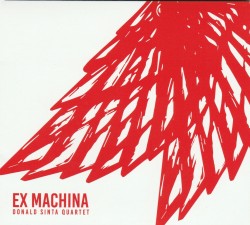 Ex Machina
Donald Sinta Quartet
Bright Shiny Things BSTC-0133 (brightshiny.ninja)
Formed in 2010 and named after their mentor, a University of Michigan saxophone professor, the Donald Sinta Quartet is an exciting award-winning modern ensemble featuring saxophonists Dan Graser (soprano), Zach Stern (alto), Joe Girard (tenor) and Danny Hawthorne-Foss (baritone). In their second recording, the tight virtuosic classical/contemporary music group performs seven new works, six of them premiere recordings.
The seven-movement Ex Machina, by American Marc Mellits, is a funky, minimalistic work exploring his self described idea "to express the beauty locked within machines." Machine I (Let the Funk Out) sets up this idea with minimalist machine-like grooves. The contrasting slower Machine II (Flowing) features long ascending and descending lines, with a slightly rhythmic backdrop. Love the choppy sudden change to rhythmic machine-like industrial sounds in Machine IV (Dancing a Mean Ghastly Dance) performed with aplomb. No surprise Machine VII (Aggressive & Funky) ends with a final held honkin' chord. Mellits' other work here is the swirling, syncopated Black.
Richard Chowenhill's slower In Solitude I Sit is a refreshing reflective change with its lengthy held drone notes and higher pitches, all played with great breath control. No background rhythms enhance the calmness. Touches of Middle Eastern and klezmer-flavoured sounds in Chris Evan Hass' faster Volcanic Ash are performed to style. Works by Suby Raman, David Biedenbender and Mischa Zupko feature memorable challenging rhythms, swirling lines and contrasting dynamics.
These talented, technically astute, rhythmic and musical saxophonists shine throughout.