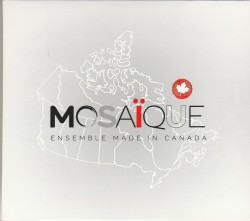 Mosaïque
Ensemble Made In Canada
Independent 0 51497 14047 2 (mosaiqueproject.com)
Canada's remarkable ethnic and scenic diversity is glowingly reflected in the stylistic diversity of the 14 pieces that constitute Mosaïque, each about four minutes long, drawing from classical, jazz, folk, pop and Indigenous idioms. The Mosaïque project was created by Ensemble Made In Canada, Western University's superb ensemble-in-residence, comprising pianist Angela Park, violinist Elissa Lee, violist Sharon Wei and cellist Rachel Mercer. Since premiering Mosaïque in 2018, EMIC has performed the suite in every province and territory, as each province and territory is represented musically in one of the pieces.
Fourteen composers contributed to the project: David Braid, Barbara Croall, Julie Doiron, Andrew Downing, Vivian Fung, Nicolas Gilbert, Kevin Lau, Nicole Lizée, Richard Mascall, Samy Moussa, William Rowson, Darren Sigesmund, Sarah Slean and Ana Sokolović. Many of their pieces depict familiar features of Canada's physiognomy: prairies, mountains, the icy North and lots of flowing water – rivers in Quebec, Manitoba, B.C., Yukon and Northwest Territories are referenced in six pieces. There are also echoes of Gaelic, Acadian and Métis folk music, aboriginal petroglyphs, canoe trips, a legendary Newfoundlander and Saskatoon ghosts.
Happily, all these disparate pieces fit together like tesserae, those tiny, coloured bits of stone, glass or ceramic that compose a mosaic floor, wall or ceiling. Here all the differently coloured musical bits have combined to create a vivid sonic "mosaïque" of our remarkable country, vividly performed by Ensemble Made In Canada. A truly wondrous achievement!