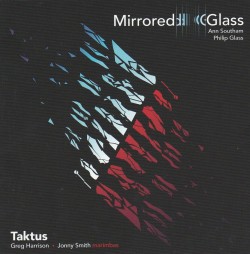 Mirrored Glass
Taktus Duo
Ravello Records RR8027 LP, CD and Digital (taktusduo.com)
The Taktus duo was formed in 2010 by Canadian percussionists Greg Harrison and Jonny Smith while pursuing master's degrees at the University of Toronto. With musical influences ranging from classical to electronica, their stated mission includes making music "that crosses borders between genres…". Their second album consists of very effective marimba duet arrangements made by the duo of key minimalist keyboard works by Canadian Ann Southam (1937-2010) and American Philip Glass (b. 1937).
Southam is represented by five pieces on Side A. The four from the piano work Glass Houses (1981, revised 2009) are constructed from short, primarily major-key tonal units. Possessing an overall lyrical quality, the composer slowly transforms melodies derived from only a few tonal chords. Inside those chords, in the evocative words of Musical Toronto, "a tone row gradually unfolds at the speed of a tulip blossom opening on a warm, sunny spring morning." The fifth work is from Southam's earlier and harmonically more adventurous Rivers I (revised 2004).
Side B features spirited, idiomatic Taktus arrangements of Glass' well-known Music in Contrary Motion (1969) and pieces from Etudes (1994-2012). Throughout, the duo's playing is both precise and nuanced, as is the quality of the accurate and warm-sounding recording. The use of processing to lengthen the decay on the percussive marimba sound is organic, never obtrusive. Harrison and Smith sensitively render the complex interplay of solo and accompanying voices with virtuoso panache in both sets.
This satisfying album promises a bright Taktus future.