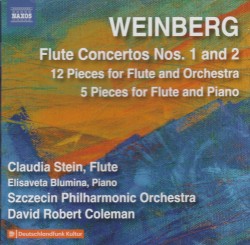 Weinberg – Flute Concertos Nos. 1 and 2; 12 Pieces for Flute and Orchestra; 5 Pieces for Flute and Piano
Claudia Stein; Szczecin Philharmonic Orchestra; David Robert Coleman
Naxos 8.573931 (naxosdirect.com)
Mieczyslaw Weinberg (1919-1996) was a Polish-Jewish pianist and composer who came of age just as Europe was plunged into the inferno of the Second World War. Moving first to Minsk to escape the Nazi occupation of Poland, he subsequently moved to Tashkent and then, with some help from Shostakovich, to Moscow where he lived for the rest of his life. The music on this recording, composed between 1947 and 1987 is a window into the musical culture, nipped in the bud by World War II, emerging in the 1930s in Eastern Europe.
The first thing that struck me about Weinberg's music was his prodigious mastery of technique. For example, the first movement of Flute Concerto No.1 is an exciting, dramatic and technically challenging dialogue between the soloist and the orchestra. The second movement, an elegiac soliloquy for the flute, is supported by a simple but profoundly expressive chord progression played by the orchestra: the two movements couldn't be more different, but both display equal mastery.
The first of the Five Pieces for Flute and Piano, begins by quoting the opening of Debussy's La fille aux cheveux de lin, but moves on seamlessly into Weinberg's own wonderfully original and expressive flight of melodic invention.
Flutist Claudia Stein, pianist Elisaveta Blumina and the Szczecin Philharmonic Orchestra, conducted by David Robert Coleman, are equally up to the challenges of Weinberg's music. Kudos also to Naxos for introducing us to Weinberg's music for flute.