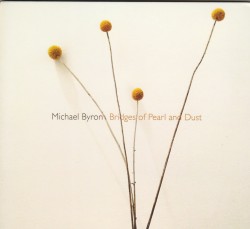 Michael Byron – Bridges of Pearl and Dust
Ben Phelps
Cold Bllue Music CB0057 (coldbluemusic.com)
This CD single features Bridges of Pearl and Dust, a 16-minute four-vibraphone work by "second-generation West Coast minimalist" American composer Michael Byron. It's dense, contrapuntal and polyrhythmic music which generously rewards repeated listening.
I first met the Los Angeles-raised Byron at Toronto's York University around 1973. He came to study composition with American Richard Teitelbaum, as well as to teach music. Byron had already studied with maverick composer James Tenney in LA, and had formed close musical friendships with influential post-modernist, minimalist composers Harold Budd and Peter Garland. At York Byron worked closely with music professor, composer, musician and biofeedback-music pioneer David Rosenboom. Very quickly Byron became an integral member of the vibrant mid-1970s Toronto avant-garde performing arts community. Byron moved to New York City a few years later, and there too found an influential place in the downtown experimental music scene.
Byron's compositions are marked by those varied influences, yet even his earliest works project a unique musical voice. One reviewer called it "shimmering minimalism." The four vibraphones in Bridges of Pearl and Dust (2011), all played with élan by LA percussionist Ben Phelps, combine to express a complex, harmonically shifting sound field. Challenged on the first listening, I replayed the album four times. Over time, the logic and aesthetics of Byron's musical imagination were revealed.
Filled with rhythmically percolating, interpenetrating melodic lines, the resulting tightly interwoven texture elicits, as the composer aptly put it, "a musical experience in the present tense." And as I found out, one which richly rewards deep listening.