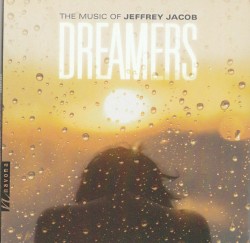 Dreamers – The Music of Jeffrey Jacob
Various Artists
Navona Records nv6248 (navonarecords.com)
The disc, Dreamers, is a collection of pieces written by composer/pianist Jeffrey Jacob. The pieces are all earnest expressions of melancholic feeling, moving through discord towards reconciliation. He often pits the brightest register of the piano against sombre lower strings, and he uses short melodic motifs that sometimes recall a familiar strain of someone else's: the lilting adagio in 6/8 time of his Sanctuary One, almost quotes Mozart's Piano Concerto No.23 in the solo piccolo; there's a gesture somewhat like Debussy's Syrinx in some of the woodwind lines in The Persistence of Memory; in the same work the piano and the cello give voice to Schumann-esque nostalgia (although in his notes the composer freely admits this last reference).
The writing is assured, and Jacob's performance skills are fine (he appears as piano soloist or ensemble member on most of the tracks). He also receives (takes?) oboe credit for the final track, somewhat puzzlingly, as it's a synthesizer, not the real thing.
The disc opens with the title work, a three-movement concerto dedicated to the cohort of American immigrants known as Dreamers. The first movement is subtitled Rain, Lagrimas (Tears). The piano solo provides the persistent drops of sound to generate this image, an evocative technique if somewhat heavily present in the mix, a comment that applies for much of the disc. The string orchestra provides the melancholy.
Jacob confines much of his syntax to the four-bar phrase. This is just a quibble, one from someone who gets easily bored of the repeated trope.