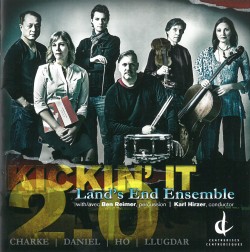 Kickin' It 2.0
Land's End
Centrediscs CMCCD 26819 (musiccentre.ca)
Two works by Vincent Ho, artistic director of Calgary's Land's End Ensemble, bookend this CD that spotlights as soloists the ensemble's three musicians. First, cellist Beth Root Sandvoss performs Morning Sun, a lyrical, somewhat melancholy piece, just under four minutes long, that Ho composed while watching a sunrise in California.
In Derek Charke's Tree Rings, violinist John Lowry and Ben Reimer on marimba depict a tree's life under ever-changing weather conditions. The music's moods and energies keep changing, too; it's compelling listening throughout its own 11-minute "life." Stelco is Omar Daniel's "homage" to industrial machines and the Canadians "who risk life and limb" operating them. Pianist Susanne Ruberg-Gordon and Reimer on vibraphone manufacture ten minutes of metallic percussion, ranging from near-subsonic vibrations to pile-driver pounding, with clanging piano bass notes. The trio reunites in Analía Llugdar's seven-minute Don Liborio Avila, based on a portrait of an old man in a small Argentinian town. "But," says Llugdar, "violence haunts the picture." The music is violent, too, the ensemble simulating angry electronic bursts, buzzes and squeaks.
Ho writes that Kickin' It 2.0, performed by the ensemble plus Reimer on drum kit, was inspired by "Squarepusher, jazz, gamelan music, Chinese folk music and the crime novels of James Ellroy." Ellroy's novels notwithstanding, Ho's 20-minute, four-movement work offers jazzy aggression, gentle gamelan-like tinkles, a drum-dominated cadenza and a powerful, sustained motoric finale, ending a fascinating disc that gathers steam (and steam engines!) from start to propulsive finish.