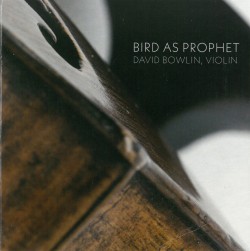 Bird as Prophet
David Bowlin; various artists
New Focus Recordings FCR237 (newfocusrecordings.com)
This is one disc that achieves so much more than it sets out to do. Bird as Prophet (the composition) is an amalgam of Robert Schumann, a Romantic with a deep and abiding knowledge of literature and philosophy, and Charlie Parker, the iconic bebop genius who revolutionized jazz – and, it may be argued, all contemporary music. But it is the fingers – and bow – of David Bowlin that drives the music of the entire disc much further.
Bowlin brings so much more to the music than mere virtuosity. Combining his absolute mastery of the violin with inspired interpretations, he lifts the black dots off the page in an utterly beguiling performance evocative of the very nature of human endeavour and the mercurial vicissitudes that go with it.
Bowlin's instrument lives and breathes and takes us to another world. It's full of glinting illuminations, mysterious depths, expectations, frustrations, hopes and doubts, like the lights and shadows of a quasi-Schumann scherzo glimpsed by moonlight in a forest. Using taped effects and partnered by four other musicians (on three other tracks), Bowlin creates passage upon passage of notes that are at once perfectly transparent yet gorgeously coloured. There's also a sense of tightly disciplined improvisation everywhere in the music.
Finally, on the mesmerising Under a Tree, an Udātta, an almost-nine minute musical exploration of Sanskrit phonetics (Udātta is the pitch accent of Vedic Sanskrit), he bows out with buoyant, aristocratic grace.