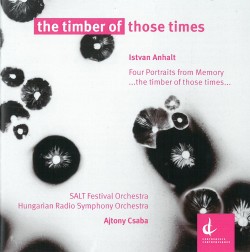 Istvan Anhalt – …the timber of those times…
SALT Festival Orchestra; Hungarian RSO; Ajtony Csaba
Centrediscs CMCCD 26419 (musiccentre.ca)
Right from the portentous opening chords to the ghostly final drumbeats, this recording of Istvan Anhalt's monumental ...the timber of those times... (...a theogony...) works a spell. It's is an adventurous, colourful work, depicting the gods who ruled the world of the ancient Greeks and continue to fascinate today. The terrific performance by the Hungarian RSO includes a fiery galvanizing violin cadenza from soloist Vilmos Oláh. Conductor Ajtony Csaba deftly sustains the momentum throughout.
In Four Portraits from Memory, chant-like textures suffuse evocations of loved ones whose recent deaths Anhalt is grieving. I found it deeply beautiful, and profoundly heart-wrenching, the serene atmosphere enriched by rhapsodic passages featuring pianist Tzenka Dianova. The SALT Festival Orchestra brings a level of polish and precision which allows the lines to shimmer and breath, suggesting layers of sounds yet to be discovered.
Anhalt, who was born in 1919, wrote some of his finest works at the very end of his career – he died in 2012. These are his last orchestral works, both from 2006. They differ in striking ways from each other, a testament to his remarkable versatility. But whether focusing inward to contemplate his own experiences, or reaching out to distant times to interpret those experiences, both works are deeply personal – and all the more moving for that.
This significant recording makes a fitting way to honour the centenary of the birth of a matchless trailblazer in Canadian music.