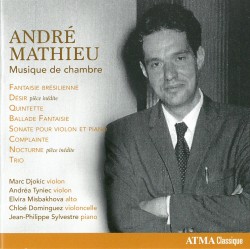 André Mathieu – Musique de chambre
Marc Djokic; Andréa Tyniec; Elvira Misbakhova; Chloé Dominguez; Jean-Philippe Sylvestre
ATMA ACD2 2784 (atmaclassique.com)
The turbulent life of the pianist and composer André Mathieu (1929–68) began in triumph and ended in tragedy. This son of professional musicians was hailed as "the Mozart of Québec" at his Parisian debut in 1936 but ultimately faded into in a haze of alcoholism and obscurity, succumbing to a heart attack at the age of 39. It is perhaps not surprising that Mathieu's resolutely post-Romantic style, heavily influenced by Scriabin and Debussy and profoundly melodic and episodic by nature, was disdained in the new music circles of the 1960s. It is largely due to the advocacy of the Québécois pianist-composer Alain Lefèvre, a champion of Mathieu's piano concertos, that his reputation has been restored in our post-modern era.
The album features Mathieu's eight chamber works from the middle of the 20th century, the era of his finest compositions. It includes a selection of compact duets for violin and piano featuring pianist Jean-Philippe Sylvestre with violinists Mark Djokic and Andréa Tyniec alternating as soloists. Tyniec (who dazzled Toronto recently performing Ana Sokolović's violin concerto for New Music Concerts) lays claim to the enjoyable though discursive Violin Sonata. Of particular interest are the Quintette for piano and string quartet and the Trio for violin, cello and piano, two substantial works in which Mathieu exceeds himself in the mastery of large-scale forms. The performances are uniformly excellent and production values are top notch.