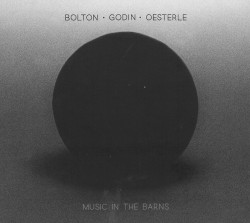 Bolton; Godin; Oesterle
Music in the Barns
New Focus Recordings FCR226 DDD (newfocusrecordings.com)
Classical traditions seldom come together so gloriously with the unpredictability of the avant-garde than on this disc titled after its contributing Canadian composers Rose Bolton, Scott Godin and Michael Oesterle. When that happens, it somehow seems fortuitous that Toronto's Music in the Barns – a quintet where violinist Lance Ouellette and violists Carol Gimbel and Pemi Paull sometimes play musical chairs – should be tasked to play their repertoire.
Bolton's The Coming of Sobs is a particularly intense work. But even here the musicians make the black dots literally fly off the page intensifying the experience that the composer has written into the work. After a relatively quiet opening the music develops – through a series of pulses and crescendos to a shattering fortissimo that emphasizes its darkly dramatic and veritably vocal human cry as brilliantly expressed by the string ensemble.
Godin's work, all that is solid melts into the air,is more ephemeral and calls for a more nuanced performance, one which Music in the Barns delivers in spades. Breathing their way into the composition that spans over 150 years of humanity, the ensemble traverses a work bookended by the visceral world of Charles Baudelaire and the beguiling symbolism of master-builder Robert Moses with transcendent splendour.
The disc comes to an end with Oesterle's Daydream Mechanics. The quintet brings a near-rhapsodic reverie inspired by the spare lyricism of Nicole Brossard's poetry into a sensuous awakening on a disc to die for.