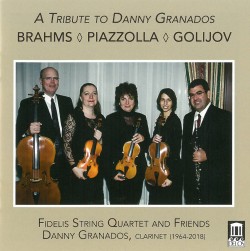 A Tribute to Danny Granados
Fidelis String Quartet and Friends; Danny Granados
Delos DE 3562 (delosmusic.com)
Member and subsequent CFO of the Houston Symphony Orchestra, Danny Granados (1964-2018) was a brilliant clarinetist. As he writes in the liner notes, three works were recorded by him with the Fidelis String Quartet and three other musicians in 2011 after a conversation about Brahms' beginnings, and all artists' struggles and setbacks. After his death from cancer, the other players' released the recording in 2019.
The Fidelis String Quartet is a tight ensemble with great musicality. Granados fits in so well that his unique colourful clarinet playing never overwhelms the quartet as it blends with the strings. Brahms' Clarinet Quintet in B Minor, Op.115 is a challenging work to play. Of note is the opening Allegro movement as Granados plays the moving clarinet melodies with luscious tones, subtle colour changes and slight rubato touches as it converses with the string lines. More clear string and poignant low-pitched clarinet conversations in the second Adagio movement.
Osvaldo Golijov's Lullaby and Doina, from the 2001 film The Man Who Cried, offers a welcome abrupt change with its plucked strings opening, quasi klezmer intense clarinet doina, higher pitched strings, flute and bass, and a fast toe-tapping closing. Piazzolla fans should enjoy the four tango selections. Highlight is pianist Pablo Zinger's arrangement of Libertango. A piano start leads to a breathtaking legato clarinet cadenza based on its familiar tune developing into a fast instrumental rendition
Timeless performances make this a moving musical memorial tribute to Danny Granados.