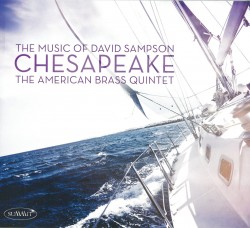 Chesapeake – The Music of David Sampson
American Brass Quintet
Summit Records DCD 639 (summitrecords.com)
This CD, writes American composer David Sampson (b.1951), "came from my long-held desire to write for the members of the American Brass Quintet as individuals and close friends, amplifying their unique talents and sequencing the pieces to stand as an extended composition." What I found particularly fascinating was Sampson's varied sonic mix of one or two brass instruments plus electronics or percussion and piano in the first four pieces, each in three or four movements.
The opening, Breakaway, for two trumpets and electronics, presents echoes of Copland's Fanfare for the Common Man and propulsive jazzy riffs that surround a darkly funereal cortege. In Powell Trio for trombone (the quintet's Michael Powell), marimba and piano, two snappy, nervously syncopated movements, Flow and Eddies, burble around Stillwater, the quietly mysterious middle movement. Three Sides for trumpet/flugelhorn, vibraphone and piano begins with cheery repeated staccato brass notes over a rumbling accompaniment, followed by a slow bluesy solo supported by gentle arpeggios, before ending in playful, quirky syncopations and percussive punctuations. Just Keep Moving, for horn, bass trombone, marimba and piano, is more modern-sounding, rhythmically and harmonically complex; true to its title, though, it just keeps moving.
The concluding four-movement Chesapeake, for the entire quintet, depicts, writes Sampson, sailing trips with his friends down Maryland's Chesapeake Bay. Sampson's enjoyment of these trips is reflected in the bright, celebratory music, a fine conclusion to this fine, enjoyable disc.