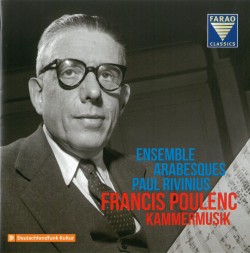 Francis Poulenc – Kammermusik
Ensemble Arabesques; Paul Rivinius
Farao Classics B 108103 (farao-classics.de)
Certain composers of the 20th century were determined to complete cycles of works for all of the orchestral wind instruments. Paul Hindemith largely succeeded, Carl Nielsen fell short of his intention to write a concerto for each member of the Danish Winds, and Francis Poulenc gave the world a wealth of pieces for all of them. His contributions are given a representative sampling on this disc featuring the wind quintet Ensemble Arabesques, joined by the excellent Paul Rivinius on piano.
The largest work (from 1932, revised 1939) is the Sextet for Winds and Piano. In it you'll hear echoes and precursors of material Poulenc used in all of his smaller ensembles, notably of his final three wind sonatas: for Flute (1956), Clarinet (1962), and Oboe (1962). He intended to add a sonata for bassoon, but died shortly after completing the oboe work. The sextet is full of fun, played with sparkle and élan, but also with the disguised melancholy found in the three later works. Like Matisse's paper cutouts, Poulenc's pieces can seem like collages of recurrent musical gestures and tropes, and his forms repeat through most of these pieces. For my money, naturally, the clarinet sonata is the most beautiful, played here by Gaspare Buonomano. The second movement is heartbreaking and so simple. Buonomano's rendition is understated, elegant and respectful of the music, though sadly not without the clarinet's most vexing pitch peccadilloes. Eva Marie Thiébaud's flute sonata is utterly fine; likewise Nicolas Thiébaud on oboe.