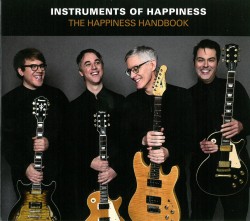 The Happiness Handbook
Instruments of Happiness
Starkland ST-232 (starkland.com)
Tim Brady is internationally recognized as a leading experimental guitarist and a prolific composer of chamber, orchestral and music theatre works. He writes, "For over 30 years I have been exploring a new approach to the electric guitar, a vision as both a composer and a guitarist. Instruments of Happiness [IOH] is … the next step in this evolution." Leader of IOH groups, Brady considers the guitar an "instrument of happiness," and he gave that title to the electric guitar ensembles he formed as a platform for his wide-ranging music projects.
IOH performs in three formats: as a 100-piece electric guitar orchestra rendering site-specific new works; as a 20-piece ensemble; and as a quartet performing new compositions. It's the last configuration we hear on The Happiness Handbook in premiere recordings of works by six Canadian composers: Brady, Jordan Nobles, Scott Godin, Maxime McKinley, Gordon Fitzell and Emily Hall. The music on the album reflects many of Brady's own musical interests. These include contemporary classical, experimental and musique actuelle, but also embrace guitar-based vernacular genres such as blues, progressive rock, flamenco and the electric guitar sounds popularized by 20th-century innovators Duane Eddy and Link Wray.
If you enjoy virtuoso electric guitar shredding, edgy minimalism, jaggedly incisive rhythms, noisy textures and rock's propulsive energy paired with the guitar's gentler voice – soft harmonics, cantabile slide guitar and sustained tones – then this is an album to savour and add to your collection.