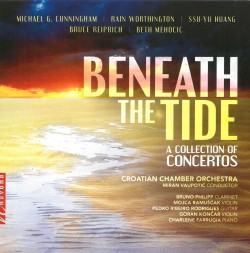 Beneath the Tide – A Collection of Concertos
Soloists; Croatian Chamber Orchestra; Miran Vaupotic
Navona Records nv6216 (navonarecords.com)
Don't be misled by the CD's title or the accompanying notes that liken its contents to "ocean currents… uncovering what was previously hidden." Rather than exposing murky, below-the-surface secrets, all five pieces, by four Americans and one Taiwanese composer, display immediately accessible clarity of expression. Nor is this disc "a collection of concertos," as stated on its cover. Although all the works are scored for instrumental soloists and chamber orchestra, only three are genuine concertos and are so titled.
Restless dissonances in the outer movements of Michael G. Cunningham's 15-minute Clarinet Concerto Op.186 bracket the middle movement's brooding lyricism. Virtuoso runs from bottom to top of the clarinet's range help make this a brilliant showpiece for the instrument.
Rain Worthington's ten-minute In Passages for violin and string orchestra is a sustained, moody beauty, imbued with Middle Eastern melodic melismas and glissandi. It would make a superb slow movement for a full-length violin concerto.
In her 15-minute Guitar Concerto No.1, subtitled Remembrance of Hometown, Ssu-Yu Huang draws upon musical traditions of her Chinese forebears to create an impressionistic series of atmospheric brush paintings in sound.
At just under six minutes, Bruce Reiprich's Lullaby features a long-lined violin solo, more intense than gently calming. Perhaps it just needs another title.
The CD concludes with Beth Mehocic's cheerful 18-minute Piano Concerto, music that suggested, to me at least, playful leprechauns, the final Allegretto a rousing Irish jig. An entertaining end to an entertaining disc.