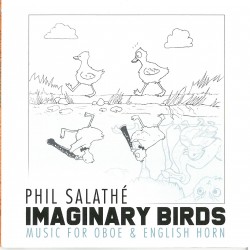 Phil Salathé – Imaginary Birds
Ling-Fei Kang; Charles Huang
Ravello Records rr8006 (ravellorecords.com)
To join Phil Salathé on Imaginary Birds, his magical adventure, the listener must allow oneself to be led by the clear and penetrating soprano voice of the oboe and the more covered, tenor timbre of the pear-shaped bell of the cor anglais, into the wonderful imaginary sound world of the composer. Here we are quite easily seduced by the oboe of Ling-Fei Kang and the cor anglais of Charles Huang as we traverse the interior landscape of Salathé's vivid imagination. Along the way we are also joined by cello, piano, celesta, harp and guitar to explore the mysterious depths and wondrous heights of birds in their wondrous habitat.
We find ourselves coming under the spell of a composer who is a master of mood and atmosphere and who has the ability to coordinate colour and structure to a rare degree. The bird repertoire – Mandarin Ducks and Imaginary Birds of the Frozen North – swirls amid equally atmospheric pieces such as The Heart that Loves But Once and The Wood Between the Worlds as well as Expecting the Spring Breeze (composed by Teng Yu-Hsien and arranged by Salathé).
The sometimes diabolical difficulty of this music is expertly navigated by Kang and Huang as well as by the other musicians. Each piece is given a lively reading and is played with buoyant, aristocratic grace and almost insolent virtuosity. Equally important is the fact that a delightfully spare atmosphere is maintained throughout.