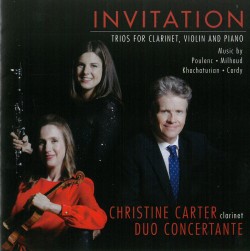 Invitation – Trios for Clarinet, Violin and Piano
Christine Carter; Duo Concertante
Marquis Classics MAR 81489 (marquisclassics.com)
Having to declare an interest in the subject of a disc review is an unalloyed pleasure when said conflict involves praising the work of a former student. Together with Tim Steeves and Nancy Dahn (Duo Concertante), clarinetist Christine Carter has released Invitation, an album of trios for clarinet, violin and piano. Alongside the witty and spirited Suite by Darius Milhaud is Aram Khachaturian's almost emo Trio; Tango, a chestnut by Canadian Patrick Cardy (1953-2005); and last of all, Francis Poulenc's L'invitation au château.
The latter is new material to me, as I'm sure it will be to many listeners. It's a curiosity, beautiful raw material that Poulenc never got around to turning into a suite, unlike his colleague Milhaud. Both composers wrote the music on this disc as integral backdrops for plays by Jean Anouilh, but where Milhaud sifted his score down to four movements, the Poulenc remains in its original form of 16 musical installments, some extremely short, others stretching to between one and two minutes in length.
Nothing detracts from the pleasure of listening to the performances on this disc. The Khachaturian stands out as particularly compelling, but no doubt others will find their own favourites. Tasteful style, courteous and elegant musicianship, and technical ease are featured throughout by all three performers. One supposes, or hopes, this won't be their last such collaboration.
The liner notes are helpful, packing a good deal of information into an interview format.