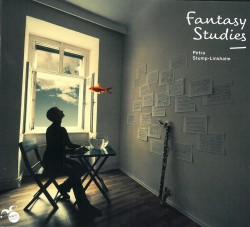 Petra Stump-Linshalm – Fantasy Studies
Various Artists
Orlando Records or 0033 (orlando-records.com)
The technical ability of the players on this new disc is enough to bind the listener to the chase of sounds they produce. A collection of different works for (mostly) winds, and most among them the various sizes of clarinet, the CD is named for its final multi-movement work, written by composer Petra Stump-Linshalm. This piece calls for four players dealing with 11 instruments between them (flutes, clarinets, recorders, cello, some also playing percussion). The performers produce eerily beguiling songs and dances. Tonality is a ghost of its former self, pale-to-vanishing. Stump-Linshalm is more concerned with finding voices to utter her thoughts that no one has heard yet, colours and consonants fresh from a fine-tuned imagination. Movement is mostly ordered but gradual, although some movements pop and spark with sudden furtive gestures. Nowhere is the dance faster than a lively funeral march. Fantastic indeed, and beautiful; and terrifying.
Opening the disc are eight short movements for solo contrabass clarinet, which seems to be having its moment in new music. Uisge Beatha is an exploration in sound of the variety of flavours found in good peated scotch. My unmixed love of single-malt scotch whiskey is not matched by my feelings for the contrabass clarinet. I certainly admire the playing ability of Heinz-Peter Linshalm, who is featured on most of the disc, and his mastery of the double-length bass. There's a mad take on The Teddy Bears' Picnic as well; I leave the listener to find it.