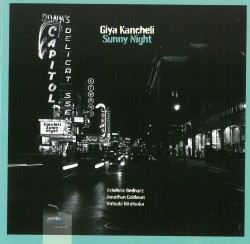 Giya Kancheli – Sunny Night
Frédéric Bednarz; Jonathan Goldman; Natsuki Hiratsuka
Metis Islands 2019 MI-0009 (metis-islands.com)
I get particular satisfaction from listening to an album rendered stylishly by gifted Canadian musicians. A good example is Sunny Night, a collection of 17 miniatures originally scored for the cinema and theatre by Giya Kancheli (b.1935) recorded at McGill University in Montreal by the duo of Frédéric Bednarz (violin) and Natsuki Hiratsuka (piano).
The well-known Georgian composer Kancheli, currently living in Belgium, is an unabashed romantic when it comes to composing music. "Music, like life itself, is inconceivable without romanticism. Romanticism is a high dream of the past, present, and future – a force of invincible beauty which towers above, and conquers the forces of ignorance, bigotry, violence and evil," states Kancheli in the liner notes.
The highlights on Sunny Night are the two works for violin, piano and bandoneon (Jonathan Goldman), an instrument closely associated with the tango. Earth, This Is Your Son for the trio is episodic and dramatic, dominated by minor key tonalities. At just over five minutes it is also the most substantial work on the album. It's more a concert piece than incidental music.
Not only unapologetically melody-driven, romantic and tonal – often gently drawing on early 20th-century vernacular genres such as the tango – the musical language on Sunny Night also seeks to capture a single mood befitting the music's original theatrical function. In that it succeeds admirably, though sometimes the effect verges on overt sentiment. There are times however when that is just what's needed.