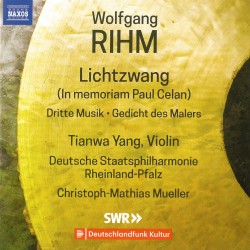 Wolfgang Rihm – Music for Violin and Orchestra Volume 1
Tianwa Yang; Deutsche Staatsphilharmonie Rheinland-Pfalz; Christoph-Mathias Mueller
Naxos 8.573812 (naxosdirect.com)
Impressively prolific by any measure, the celebrated German composer Wolfgang Rihm (b.1952 ) has amassed an immense catalogue of over 400 substantial works. Rihm's early 1970s compositions employ elements of Schoenberg's and Berg's expressionist compositional language while also incorporating techniques of the subsequent composer generations. Despite being associated with the 1980s concert music movement dubbed New Simplicity and New Romanticism, Rihm's musical aesthetic never seems to have strayed far from late Austro-German Romanticism and its expressionist love child. The three works on this CD for violin and orchestra – in essence violin concerti – spread over almost four decades, clearly reflect all those influences. Nevertheless, Rihm's idiosyncratic voice emerges collectively from these works with introspective intensity.
Rihm was in his mid-20s when he made a splash in 1977 with the premiere of his brilliantly orchestrated first violin concerto Lichtzwang (Light-duress), titled and perhaps also thematically modelled after a book of poetry by the 20th-century German author Paul Celan. It's Rihm's latest and most lyrical violin concerto, Gedicht des Malers (Poem of the Painter 2012–14), however, that speaks most directly to me. Rihm explains the intended narrative: "the soloist virtually embodies the painter's brush as it moves over the canvas sometimes faster and sometimes in more deliberate ways." In all three works, violinist Tianwa Yang brilliantly imbues her virtuoso passages with passion and intimations of inner angst and emotion, effectively supported by the Rheinland-Pfalz State Philharmonic under Christoph-Mathias Mueller.