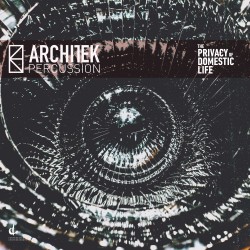 The Privacy of Domestic Life
Architek Percussion
Centrediscs (LP) CMCV 10418 (musiccentre.ca)
Founded in 2012, the "quirky, virtuosic and thoroughly engaging" (Bachtrack.com) Montreal-based quartet Architek Percussion has performed across Canada specializing in percussive experimental, multi-disciplinary, minimalist music, sometimes embellished with electroacoustic elements. It has commissioned over 40 works by Canadian and international composers, and appears on five albums.
On the LP The Privacy of Domestic Life Architek performs scores of three Canadian concert music composers in their 30s who are well on the way to establishing international careers: Adam Basanta, Taylor Brook and Beavan Flanagan. All three of their works were commissioned by the group.
Brook's Incantation transforms the metallic sounds of cymbals and bells and what sounds like clay pots into finely tuned microtonal textures and sonorities, drawing on both his Western composition and Hindustani classical music performance studies and practice.
The title cut is the most substantial work here at 19 minutes. It "is a reflection on the domestic life, delivered in three interconnected movements," writes Montreal-based Basanta. "I imagined a daily universe in expansion, with unique sounds that come to life: discreet noises amplified, amalgamated rhythms, and unwanted sounds," such as repeated cellphone interruptions. Furthermore, Basanta effectively exploits the interaction between human musicians, on percussion instruments, and enigmatic electronic sounds.
On one hand the music on this album sets out to explore thresholds between temporal stability – in terms of regular pulse, rhythmic continuity, metre and groove – and instability. For the listener, the sonic journey here is equally full of the thrill of discovery and the mystery of the unknown.