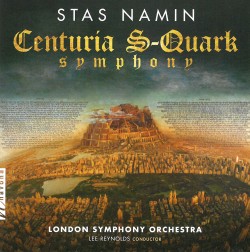 Stas Namin – Centuria S-Quark Symphony
London Symphony Orchestra; Lee Reynolds
Navona Records nv6200 (navonarecords.com)
In his liner notes, Stas Namin refers to "clashes between individuals, societies, countries, ethnic groups – and ultimately the crash of civilization… the concept of my symphony came to me… as a kind of prophecy… reflecting the discord present in each person and consequently in each society."
Namin (b. Anastas Mikoyan, 1951) is a Russian arts icon, a superstar rock band leader, songwriter, film and theatre producer-director, photographer, painter (including the CD's cover image) and classical composer.
Despite Namin's comments, there's hardly any conflict or dissonance in his 47-minute, one-movement Symphony (2016). Instead, I counted more than a dozen brief episodes expressing ever-changing moods including nostalgia, playfulness, celebration, uncertainty and brash assertiveness, each colourfully scored, highlighting different instrumental combinations. One episode suggested to me a rustic square dance, another a comical circus procession. In fact, the entire symphony, highly theatrical and rhythmically energized, is essentially a brilliant ballet score begging to be choreographed, with episodes appropriate for solos, duos and ensembles.
Rather than illustrating current or futuristic discord, Namin's engaging melodic mix of late-Romanticism and neo-classicism recalls music of the 1920s and 30s. Namin never sounds like anyone else, though – not until the final three minutes, the first truly dissonant section, a crescendo of pounding percussion reminiscent of Mosolov's Iron Foundry and the finale of Stravinsky's Sacre du printemps. The apocalyptic climax is followed by a plaintive solo violin, described by Namin as "a new thread of life."
Highly enjoyable throughout!