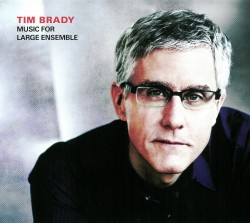 Tim Brady – Music for Large Ensemble
Bradyworks Large Ensemble; Tim Brady
Starkland ST-230 (starkland.com)
With strident chords and single note triplets and arpeggios, Tim Brady's guitar becomes a razor-edged ignition into the elegant rolling atmospherics of reeds, woodwinds, strings and rhythm section of his Bradyworks Large Ensemble. Somehow the loud and amplified intrusion is smoothed over and the respective instruments are no longer strange bedfellows, even as the music veers from the utterly thrilling turbulence of ideas – a glittering introduction, dark passagework, triumphant fanfares by guitar, piano and electric piano, all of whom trade gigantic-sounding chords in the dark and foreboding Désir, the first part of the Concerto for electric guitar and large chamber ensemble.
Darkness and foreboding are familiar tone colours and atmospheric soundscapes throughout Eight Songs about: Symphony #7, re-inking the palimpsests of Shostakovich's work with all the glory and tension of the turbulent Soviet era, complete with principal players in the form of music sketched in the proverbial image and likeness of Josef Stalin (Bells), Shostakovich and his wife Nina Varzar (Exhaustion) the conductor Karl Eliasberg (August Ninth) and a number of incidental characters in the erstwhile Soviet landscape.
In his works Brady recasts intensely Sovietized themes of tension, fearfulness and bitterness, tempering these with the sound of soaring hope via heraldic, ascending motifs and bright harmonics. The result is a work of brilliant impetuosity. Played on the knife edge of the guitar, Brady combines a disturbing history with Douglas Smith's poignant text through recitation and arias and instrumentation to great effect.