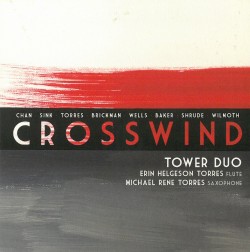 Crosswind
Tower Duo
Ravello Records rr8003 (ravellorecords.com)
Based in Columbus, Ohio the flute and saxophone Tower Duo specializes in performing contemporary works by emerging composers. Flutist Erin Helgeson Torres performs regularly in various Ohio orchestras, while saxophonist and composer Michael Rene Torres serves as the artistic director of the Columbus Ohio Discovery Ensemble (dedicated to the promotion and performance of contemporary concert music in Central Ohio). Both are active teaching their respective instruments at area universities.
Performing new repertoire for their unusual wind instrument pairing (since 2007), Crosswind is Tower Duo's debut album. It features eight of the duo's favourite compositions by as many American and international composers. The album displays the duo's mission: commissioning and performing new scores. Included is Scott Brickman's epigrammatic Epic Suite (2012), Charlie Wilmoth's disruptive Three Pieces (2013), Philip Sink's Places Never Painted (2012), inspired by the composer's poem evoking the quiet beauty of the natural world, as well as Michael Rene Torres' four-part character study Four Short Episodes (2011).
The title track from 2013 by Hong Kong composer Chin Ting Chan (b.1986), written for the duo, is an album highlight. Full of extended techniques and reflecting Chan's harmonically exact, rhythmically defined and structurally strict M.O., it pays close attention to instrumental timbre and colour, and two-voice polyphony. It's also infused with a playfully dramatic, tonally exploratory mood.
This lightness of mood and unstrained virtuosity happily permeate this album, enjoyable to listeners far from the borders of the Buckeye State.