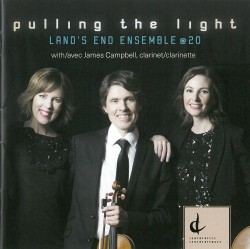 Pulling the Light
Land's End Ensemble; James Campbell
Centrediscs CMCCD 25718 (musiccentre.ca)
Calgary's Land's End Ensemble presents six Canadian works composed since the violin-cello-piano trio was formed 20 years ago. In Omar Daniel's Piano Trio No.2, two heavily accented rhythmic movements precede two slow, misterioso-style movements, all highly effective thanks to Daniel's knack for combining dramatic contrasts, piquant sonorities and constant forward motion.
Alexandre David's Auprès et au loin takes its title from a description of Pierre Boulez's music as "coherent, closely and from afar." Composed while David was studying Boulez's music, it begins with alternating agitato and ruminative passages, eventually gaining momentum and its own coherence. The next three works offer subtle evocations of nature and landscape. Allan Gordon Bell's Markings depicts three states of water – clouds (wispy strings, piano tinkles), streams (string pizzicati, running piano arpeggios) and glaciers (rapid string figures, thumping piano bass notes).
James Campbell, Canada's preeminent clarinetist, joins with the trio in Emilie Cecilia Lebel's Navigational View of South Foreland Point and the Kent Coast, 1840, inspired by drawings from that year. The slow, moody music suggests a mist-shrouded vista lacking any sharply defined landmarks. Campbell also participates in Kelly-Marie Murphy's Postcards from Home, tone pictures of a winter storm, sunrise and a rousing hoedown. Finally, Laurie Radford's Event Horizon plays with acoustic space, squiggles of energy and textures enhanced by electronics and science-fiction colours, with section titles including Pulling the Light, Red Shifted and Escape Velocity.
You're sure to find something to enjoy on this disc; I did.