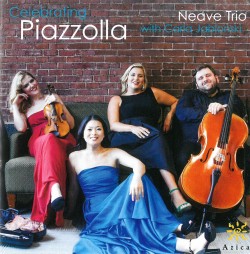 Celebrating Piazzolla
Neave Trio
Azica Records ACD-71324 (naxosdirect.com/items/celebrating-piazzolla-473444)
The Neave Trio, comprised of violinist Anna Williams, cellist Mikhail Veselov and pianist Eri Nakamura, perform arrangements of Astor Piazzolla compositions in this new release without, in a refreshing change of musical pace, the composer's ever present bandoneon. The resulting soundscape brings a new life to Piazzolla's music. José Bragato is a cellist/composer who played in several of Piazzolla's ensembles and here arranged the four-movement Las cuatro estaciones porteňas for the trio. Each movement is true to the Piazzolla sound, with the musicians playing abrupt tempo changes, rhythms, high pitches and mournful sounds with passion. Great extended solos showcase their commitment to the composer's work in the final Invierno Porteňa movement.
The trio is then joined by mezzo-soprano Carla Jablonski in five Piazzolla songs arranged by Leonardo Suárez Paz, son of Piazzolla's band member violinist Fernando. Jablonski's voice captures all the emotive sentiments especially in the familiar Oblivion, where the vocals are surprisingly able to emulate the bandoneon sound, especially in the lengthy held notes, while the trio continues to create a larger band sound. Lyrics and translations would be appreciated.
The recording ends with a performance of Suárez Paz's work Milonga de los Monsters. Though more atonal, touches of Piazzolla sounds surface in this technically amazing fun-filled performance. The Neave Trio is to be congratulated for their passionate fresh ideas of ensemble and instrumental performance. Their expertise in sound creation, playing and improvising create a new way to hear Piazzolla's work.