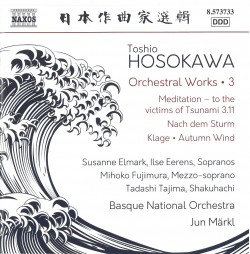 Toshio Hosokawa – Orchestral Works 3
Basque National Orchestra; Jun Markl
Naxos 8.573733 (naxosdirect.com/items/toshio-hosokawa-meditation-nach-dem-sturm-klage-448889)
Multiple award-winning Japanese contemporary classical composer Toshio Hosokawa (b.1955) has built an illustrious career rooted in both his Japanese birthplace and in European, particularly German, musical culture. Those bicultural influences, drawing on Schubertian lyricism and Webernian tone colouring, are seamlessly integrated with intrinsically Japanese musical, theatrical, aesthetic and spiritual elements.
Hosokawa has stated his philosophical goal was to give "musical expression to the notion of a beauty that has grown from transience. … We hear the individual notes and appreciate at the same time the process of how the notes are born and die: a sound landscape of continual 'becoming' that is animated in itself."
His orchestral triptych Meditation, Nach dem Sturm, and Klage forms the heart of this album. It is Hosokawa's personal and theatrical – in some places near cinematic – response to the 2011 Tōhoku earthquake and tsunami. While Meditation mourns the many victims of that tragedy, Nach dem Sturm invokes oceanic turbulent darkness.
I find Klage the most moving and musically convincing. Based on a poem and fragments of letters by Austrian poet Georg Trakl (1887-1914), Klage rages against human life taken by the ocean. Haunting images in the lyrics – a shattered body, lamenting dark voices, a lonely boat sinking in stormy seas under "unblinking stars" – are reflected in the music.
Hosokawa masterfully unleashes the full power of the contemporary symphony orchestra in Klage. It's underscored by the emotional power of the female voice, here eloquently rendered by mezzo-soprano Mihoko Fujimura, which serves as the work's consoling mother figure.