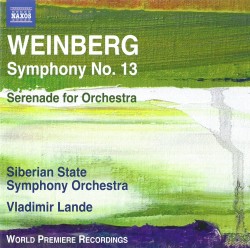 Weinberg – Symphony No.13; Serenade for Orchestra
Siberian State Symphony Orchestra; Vladimir Lande
Naxos 8.573879 (naxosdirect.com/items/weinberg-symphony-no.-13-serenade-459920)
Starkly contrasting works by Mieczyslaw Weinberg fill this disc of world-premiere recordings, part of Naxos' projected 17-CD compilation of Weinberg's orchestral music conducted by Vladimir Lande.
The 13th of Weinberg's 22 symphonies, dating from 1976, is dedicated to the memory of his mother, killed in the Holocaust along with his father and sister. (In 1939, after Germany invaded, the 19-year-old Weinberg fled from Poland to live in the USSR.)
Weinberg's sombre Symphony No.13 begins with a downcast melody for strings that seems to wander, as if lost in a fog, for more than three minutes. Scored for a large orchestra (triple woodwinds, six horns), the one-movement, 38-minute Symphony contains other such long, gloomy, sparsely textured passages, separated by agitated, anguished tutti climaxes. It closes as bleakly as it begins, with a few plucked harp notes quietly fading away. Significantly, Weinberg quotes from the opera he considered his finest creation, The Passenger, set mostly in wartime Auschwitz. This symphony, so similar in mood and intensity to a grief-laden adagio by Shostakovich (Weinberg's friend and stylistic inspiration), is a truly haunting, powerful statement of personal pain and heartbreaking loss.
Nothing could be more different than the four-movement, 18-minute Serenade (1952) – bright, cheerful, playful, with charming dance-like melodies. The finale is even titled Allegro giocoso – nothing giocoso, of course, in the Symphony.
Conductor Lande is clearly committed to Weinberg's music, these vibrant performances helping to make this CD utterly unforgettable.