Morton Feldman – For John Cage
Aisha Orazbayeva; Mark Knoop
all that dust ATD 1
Matthew Shlomowitz – Avant Muzak
Asamisimasa; Håkon Stene
all that dust ATD 2
Séverine Ballon – Inconnaissance
Séverine Ballon
all that dust ADT 3
The new label all that dust (allthatdust.com) has been established by the outstanding pedigree of its founders – composers, performers, instrument-builders and forthright musical creators and innovators – who have cut their teeth on the most demanding concert halls across the world of contemporary music. Now from founders, soprano Juliet Fraser, Newton Armstrong and Mark Knoop come these three of the first five releases on their exciting imprint. The tongue-in-cheek title of this label, All That Dust, and the bold statements of the music under review, will probably not be lost on the listener.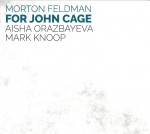 Morton Feldman's For John Cage – literally the premiere release, which also features label co-founder and pianist Mark Knoop, together with brilliant violinist Aisha Orazbayeva – heralds something of a reborn American avant-garde, primarily concerned with the sensual qualities of sounds themselves, rather than the shaping and ordering of those sounds. Always typical of this tendency, Feldman's sound-world here consists of small, soft and unhurried musical gestures which emphasise the physical detail of instrumental timbre. The work in question seems a conscious attempt at formalizing a disorientation of memory. The effect is of a hallucinatory stasis, not dissimilar to the canvases of Mark Rothko, where little happens – very beautifully.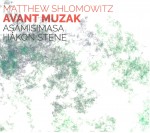 Matthew Shlomowitz's music is characterized by its bizarre theatricality and biting irony couched in subversive and surreal quantum miniatures. The disc begins with four segments titled Popular Contexts 7: Public Domain Music, all of which are almost immediately recognizable since the segments are reminiscent of elevator and mall music upon which they are based. The next five segments feature variations with similar public-music settings, this time featuring the percussionist Håkon Stene who augments Asamisimasa, a kind of Lewis Caroll-like equivalent of a jazz quintet. Avant Muzak – five sketches regarding tempi and locale – brings this entertainingly satirical disc to a close.
The effect of Séverine Ballon's musical odyssey Inconnaissance is best elaborated as a masterpiece of music whose microscopic elements of tone, pitch and tempi are conflations of musical ideas miraculously welded together: new, alert and alive. Ballon's transparent, lyrical cello resides in an opulent sound world.