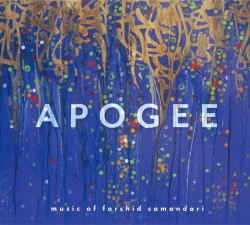 Apogee – Music of Farshid Samandari
Mark Takeshi McGregor; Ariel Barnes; Brian Nesselroad; Marcus Takizawa; Joy Yeh
Redshift Records TK453 (redshiftrecords.org)
Vancouver-based composer Farshid Samandari (b. Tehran 1971) arrived in Vancouver in 2001. He quickly embedded himself in the regional contemporary concert music scene, serving in 2013 as composer-in-residence of the Vancouver Inter-Cultural Orchestra. That position has helped him build bridges with global musicians resident in the culturally diverse hub of the greater Vancouver area.
Apogee features Samandari's works for conventional Western instrumentation stylishly played by Onyx Trio's Mark Takeshi McGregor (flute), Marcus Takizawa (viola), and Joy Yeh (harp), plus Brian Nesselroad (percussion). His compositions primarily reflect his interest in contemporary Western musical vocabulary, spectral analysis, as well as extended instrumental techniques. But Apogee also provides a window into subjects that inform his work, including modal Persian classical music and literature.
Another key ingredient is referred to in the liner notes: the autobiographical nature of the compositions played here. Exile and the search for a home are recurring narratives. And it's the orchestral flute which takes centre stage in many of the five works here, serving as the composer's voice. The flute is also the listener's guide through Samandari's life journey, connecting his old and new worlds. My favourite moments on the album are in the lonely, expressive and virtuoso flute solos of Apogee (2005) and the very substantial 16-minute Nuclide (2014), both sparkling played by Takeshi McGregor. These works belong in the Canadian flute solo playbook.
Samandari's moto is "Unity in Diversity." We get a sense of his personal peregrinations from Iran to Canada's west coast in Apogee.