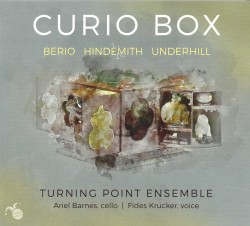 Curio Box – Berio; Hindemith; Underhill
Ariel Barnes; Fides Krucker; Turning Point Ensemble; Owen Underhill
Orlando Records OR 0037 (orlando-records.com)
This disc is a standout, with terrific performances and a compelling program of works, all confronting the relationship between the past and the present.
In Kammermusik No.3 from 1925, German composer Paul Hindemith looks back to the Baroque, especially to Bach's Brandenburg Concertos. The Vancouver-based Turning Point Ensemble, under Owen Underhill's direction, handles the inventive contrapuntal textures with stylish buoyancy, while Canadian cellist Ariel Barnes brings out Hindemith's lyrical side. Barnes' restraint with vibrato and Romantic phrasing is especially appropriate to Hindemith, an accomplished violist who was deeply involved in historical performance practices.
At the same time that avant-garde Italian composer Luciano Berio was creating his pioneering experimental works like Sinfonia, he was working on arrangements – and rearrangements – of music of the past, from Monteverdi to Puccini. In Folk Songs, from 1964, he creates altogether new accompaniments for traditional folk tunes (plus a few composed songs) from around the world. The result is an extraordinary mélange of styles and harmonic languages. Canadian vocalist Fides Krucker's blazing theatricality and playful brilliance put her in the same league as the fabulous American singer Cathy Berberian, who premiered this work.
Canadian composer and conductor Underhill's own Cello Concerto from 2016 takes us through the fragmentation and reassembling of memories of the past, triggered by a Chinese curio box full of precious objects. The virtuosic, responsive Turning Point Ensemble under Underhill's precise direction creates evocative, colourful interplay with Barnes' adventurous and dramatic cello playing.
I enjoyed the anecdotal liner notes and bios, but I do wish there were texts for the songs – with translations.