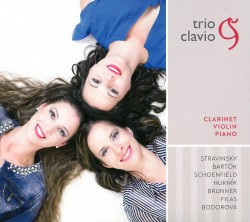 Trio Clavio
Trio Clavio
ArcoDiva UP 0204 (arcodiva.cz)
Established with the help of Polish clarinetist/conductor Jakub Bokun in 2013, this Czech trio has been performing as Trio Clavio since its successful debut at Wrocław, Poland's Clarimania Festival. The three talented members – pianist Lucie Soutorová Valčová, violinist Lucia Fulka Kopsová and clarinetist Jana Černohouzová – are each superstar soloists and chamber musicians. In their debut self-titled two-CD release, they demonstrate solid technique, musicality, ensemble playing, personal musical risk-taking, integrity, and the joy of performing music.
CD One has these younger-generation musicians playing music by three 20th-century composers. Highlights from Stravinsky's trio suite from L'Histoire du soldat include colourful low and high pitches, clear articulation of individual notes, and mood-making intense playing, especially at the almost spooky Danse du Diable closing. Bartók's three-movement Contrasts features a tighter full-orchestra sound, with classic Bartók dramatic musical conversations between the instruments. Paul Schoenfield's Trio for Clarinet, Violin & Piano is a four-movement, Jewish-based work. The opening Freylakh has a nice klezmer feel, especially in the held violin and clarinet notes. March opens with exciting low-pitched mysterious piano notes and ascending and descending glissandos, leading to subsequent virtuosic trio performance. Nigun is a fugal klezmer piece and the final Kozatske is an exciting fast klezmer-flavoured movement.
CD Two showcases diverse works by living composers. Love Czech Lukáš Hurník's witty work, Alphabet. After a short introduction, each capital letter of the alphabet is given a musical score resulting in a piece packed with diverse ideas and sounds. E is a fugue with three instruments emulating its three horizontal lines; D is all played on the violin D string; G is brought to sound life with a florid piano line. Czech Martin Brunner composed his self-described childishly playful Like Children while thinking of trio-member Valčová's son. The three movements delight with touches of lullaby, reflection and running-around sounds. Trio Clavio commission "Chiaroscuro" Trio by Slovak Juraj Filas is a single-movement, tonal, expressive, Romantic-flavoured sonata reminiscent of film music, including subtle and sudden dramatic musical shifts from loud rhythms to slower reflective sections, high pitches and lengthy held notes. Closing is Czech Sylvie Bodorová's Vallja e malit "Dancing Mountain," a folk-music rooted work with a tight Ballata opening, and a faster, closing, toe-tapping, intense, rapid line-filled Danza movement.
Trio Clavio is musically wonderful, unique and breathtaking in all they play!