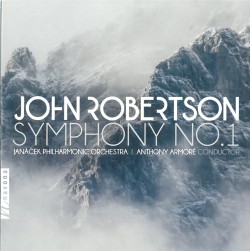 John Robertson – Symphony No.1
Janáĉek Philharmonic Orchestra; Anthony Armoré
Navona Records NV6167 (navonarecords.com)
Judging from this CD, the music of Kingston-based John Robertson has long been unfairly neglected in his adopted country. Arriving in Canada from New Zealand in 1967, Robertson, who turns 75 this October, was a late bloomer, receiving no significant public performances until 1987, when the Nepean Symphony presented his Variations for Small Orchestra, Op.14.
The 18-minute Variations opens with an original theme filled with quirky pauses, syncopations and intervallic leaps. The six variations that follow feature prominent solos for clarinet, trumpet, French horn and timpani. There's a tango and a waltz leading to a triumphant finale containing reminiscences of earlier variations.
Robertson's 34-minute Symphony No.1, Op.18 dates from 1988 but was unheard until a 2014 performance in Bulgaria. Two brightly scored, energetic movements bookend a gorgeous slow movement, music that should be welcomed by Canadian orchestras and audiences.
The 25-minute Suite for Orchestra, Op.46, was premiered in 2010 by the London (UK) Gay Symphony Orchestra. The opening Fanfare for brass and percussion is followed by the Waltz, at first wistful as played by woodwinds and strings, becoming raucous when the rest of the orchestra joins in. Elegy, the longest movement, again shows Robertson's lyrical gift, while the March ends the Suite in celebratory fashion.
In these neo-Romantic works, Robertson displays a sound of his own – colourful and inventive scoring, unpretentious and essentially cheerful. This music deserves to be heard and heard again.