Emergence Trilogy Vol.2: Elegeia
Flicker Ensemble
Flicker Art Collaboratory FAC 201702
Emergence Trilogy Vol.3: Spectral (Golden) Lyric
Flicker Ensemble
Flicker Art Collaboratory FAC 201703
(store.cdbaby.com/Artist/FlickerEnsemble)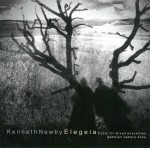 I first encountered BC composer Kenneth Newby's ambitious Emergence Trilogy, consisting of three albums of his compositions, online. I reviewed Chambers: Volume 1 in The WholeNote summer 2018 issue. Flicker Art Collaboratory has now released all three albums on CD, prompting me to explore the fascinating, multivalent music on Volumes 2 and 3.
Newby's discography reaches back to the early 1990s when he co-founded the group Trance Mission. The San Francisco world fusion quartet incorporated elements of fourth world, ethno-ambient, improvisation and jazz, releasing four albums. Faint echoes of some of those elements still reverberate in Newby's music today. In addition, his compositions make reference to 20th-century modernism, various branches of electronic sound synthesis and acousmatic music, plus his in-depth studies and performance of Balinese and Javanese gamelan music.
Elegeia showcases Newby's quest for discovering complexity and multicultural identities in his work. It extends to the instrumentation of the five works here. Swarm I is scored for string octet; Snark for muted trumpet and orchestra; Swarm II for string octet and brass; Khôra for Pauline Oliveros for mixed ensembles, and Crépuscule for Barbara for prepared piano and strings. Not unexpectedly, the effect of the works varies tremendously. For example, the asymmetrical melodic motifs – methodically organized via numerical sequences found in English bell ringing – in Symmetries II, movement IV of Khôra for Pauline Oliveros, are performed exclusively on the Semara Dana. A type of Balinese gamelan, it's the sole work for gamelan on these albums. The sensuously recorded Crépuscule for Barbara directly appropriates the piano preparations from John Cage's Sonatas and Interludes (1946-48). Newby then cannily adds what sounds like pizzicato and harmonics played on high orchestral strings. The result is an elegant Cagean tribute – with a Newby twist.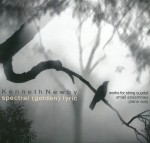 The last album, Spectral (Golden) Lyric, with ten works in total, is even more eclectic in instrumentation than the others. The brief Orchid March, scored for Chinese erhu, guzheng and percussion, is another instrumental cultural outlier. On the other hand, given that these Chinese instruments effectively perform Newby's personal compositional language, this work exemplifies his 21st-century transcultural musical aesthetic. Adopting a less overt approach, Newby has given several works titles borrowed from Javanese gamelan performance practice. There are four (spectral) pathetan, a palaran, and the last string quartet is titled Toccata and Imbal. Imbal refers to a technique in Javanese gamelan music in which two (or more) players perform interlocking melodies, thereby producing a dense, highly energized musical texture.
Newby's Toccata and Imbal was for me the particular high point of these three exhilarating albums.