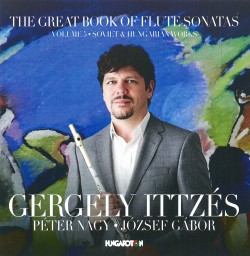 The Great Book of Flute Sonatas Vol. 5 – Soviet and Hungarian Works
Gergely Ittzés; Péter Nagy; József Gábor
Hungaroton HDC 32777
The mid-career Hungarian flute virtuoso, teacher and composer Gergely Ittzés lists over 20 albums on his bio. Perhaps the most ambitious item is his seven-volume CD set The Great Book of Flute Sonatas, beginning with J.S. Bach's Flute Sonata in B Minor. Volume Five is dedicated to four mid-20th-century Soviet and Hungarian flute and piano sonatas. Except for the well-known neoclassical Prokofiev Flute Sonata in D Major (1943) they are new to me. Ittzés superbly renders the lyricism of the Prokofiev, as well as in sonatas by Edison Denisov (1929-96) and Otar Taktakishvili (1924-89). But it's the László Lajtha album opener that is the real discovery for me here.
Hungarian composer, ethnomusicologist and conductor Lajtha (1892-1963), a younger contemporary of Bartók and Kodály, produced a considerable body of high-quality work. His Sonata en concert for flute and piano (1958) is surprising, dramatic – almost cinematic in scope. After WWII, performances of Lajtha's compositions were effectively repressed by Hungary's Communist regime due to Lajtha's anti-Soviet views (especially his support for the 1956 Revolution). In recent years however his place among leading 20th century Hungarian composers has begun to be restored.
Lajtha's Sonata is a sheer bravura delight. I hear echoes of his Magyar folk music research, his Parisian composition studies, evocative tone painting, as well as the influence of the advanced early 20th-century harmonic language of his illustrious Hungarian compatriots. The Sonata concludes with a light-handed musical joke. No spoiler alert here: you'll have to listen to Ittzés' brilliant rendition of this gem to enjoy it.