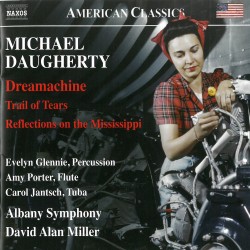 Michael Daugherty – Dreamachine; Trail of Tears; Reflection on the Mississippi
Amy Porter; Evelyn Glennie; Carol Jantsch; Albany Symphony; David Alan Miller
Naxos 8.559807 (naxos.com)
Among the younger composers prominent in the fecund musical topography of the United States, Michael Daugherty stands out as being fascinating, compelling and yet profoundly revolutionary in his ability to use the timbral palette of orchestral instruments, squeezing haunting and intuitive, drone-like modalities to evoke feelings of sadness and joy, nostalgia and anticipation, on a grand and sweeping scale. His music on this disc has been rendered with urbane and stylish theatre by the Albany Symphony conducted by David Alan Miller.
The cloudy sound masses of Trail of Tears have been created out of microscopic tangles of intrepid instrumental lines. These gradually become clearer as the work progresses through its ferociously revelatory second movement. This micropolyphony of the melodic line, pursued by flutist Amy Porter, entwined with the percussive outbursts of the Albany Symphony, comes to a mighty resolution in the finale.
In Dreamachine and Reflections on the Mississippi – considerably darkened by the Delta's history – Daugherty summons his visionary skills to create a compelling musical world, at once eerie and beautiful. The music receives an epic fillip with the inclusion of Dame Evelyn Glennie on percussion and Carol Jantsch on tuba. Orchestral tensions mount in the darkened imagery of Reflections on the Mississippi; the visceral drama of Dreamachine is completely re-contextualised in Glennie's inimitable manner and expressed in a magisterial rhythmic style, where complex layers of tempi are used to drive the music forward.