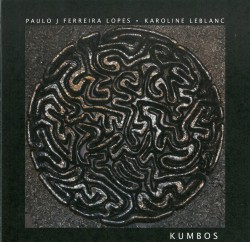 Kumbos
Paulo J Ferreira Lopes; Karoline Leblanc
Atrito-Afeito (atrito-afeito.com)
Even if you really, really dislike electroacoustic music, give this release a try because its strength in sound, collaboration and experimentation lead to accessible listening. Montreal-based composer/performer Paulo J Ferreira Lopes utilizes his many, many clever and established electro and percussion skills to create a fascinating musical conversation with his collaborator, acoustic keyboards performer Karoline Leblanc, in this one-track, hand-numbered 200 limited edition sound adventures release.
Kumbos begins with an attention-grabbing recurring percussive opening and dense piano chords. The subsequent soundscape of high pitched squeaks and cymbal washes against piano textures is a pleasing juxtaposition of sound effects. More melodic piano lines provide contrast in the quieter sections. Love the sudden loud electronic crashes. Highly effective are the numerous silences interspersed throughout the work, which are welcome escapes from sound, and music in their own right. These add to the creation of musical intrigue leading to the final climactic conversation of more intense electroacoustic rhythms, large held piano chords and washes of sound colour.
There are touches of field recordings by Leblanc which are a bit of a strain to hear but are colourful musical diversions. Additional melodic piano sections would be welcome, as well as more drum kit against electronic effects. The production is clear and the instrument levels are balanced. Repeated listening adds to a gratifying appreciation of detail in performance and composition.